Flashing and Metalwork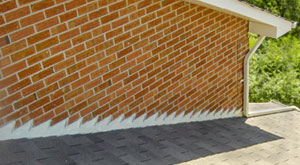 Today, with approximately 50% all roofs being repaired, the step flashing and counter flashing are not being replaced as they should be. This is done by some of our competitor's in order to cut costs, making their quotes look much better than they really are. You know the old expression: "if it's too good to be true, it probably is". The average cost for one chimney and 50 feet of wall flashing could run an extra $800 or more to our competitor's price. So it's very important to compare "apples with apples."
A Boston Roofing quote will always include replacing the flashing.
Some contractors will also install straight counter flashing, which will not comply with building codes and cut labour costs dramatically. Unless there is a problem with the brick, we always use a "shark tooth" method for all our flashing. We use 22 gauge aluminum flashing with a baked-on colour of your choice. "There's no use wearing an Armani suite with a $10 pair of shoes."
Types of Flashing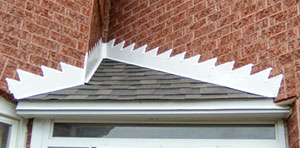 Step flashing is the preliminary flashing that is used to seal the roof to the wall. It is a common item that many roofing contractors do not replace. Not only do we replace it, but also seal it with our high-grade silicone caulking for a long-lasting result. Therefore, we are not relying on the counter flashing alone to stop a leak. This is a quality that is not usually found in the re-roofing industry.
Counter flashing is done in a "shark tooth" style. Not only do we comply to code, but we make sure that there are no kinks, or dents visible and that your home looks its very best. All of our flashings are sealed with high-grade silicone caulking.